Main Current Expeditions
River Rafting Trips & Inflatable Canoe Expeditions in Northern British Columbia & Northwest Territories.

Experience true wilderness, barely touched by man. Main Current Expeditions offers you the adventure of a lifetime in the Northern Rockies of British Columbia, Canada, a place we call our back yard and home.

Family owned and operated by brothers Kevin and Kelly Knight, Main Current Expeditions is a small BC rafting and inflatable canoe guiding / outfitters company. After years of experience and working for other outfitters we decided that the area at home could offer adventurers a unique experience and in 1995 started the process of opening the area up to a commercial river rafting / guiding venture.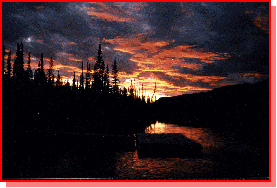 Being the only locally operated outfitter in the area has had it's challenges but the pay off has been worth it, and we are proud to offer every thing from one week getaways to three week river rafting expeditions into some of the most untouched areas of northern British Columbia and the Northwest Territories. Growing up in this area adds a very personal touch to the river trips as Kevin and I will tell all the local secrets and history of the area, with a little bribing perhaps. Our commitment to your enjoyment, safety, and comfort on the journey will ensure you a once in a life time experience, and I am sure the memories of our guided rafting trips will be remembered for years to come.
We have very strong feelings for the protection of this area as anyone has towards a special and beautiful area. Thus we have tried to make a difference by becoming a Sierra Club International member and involving ourselves with the ongoing protection of this and other areas.
Please contact us and tell us which of our guided rafting trips excites the adventurer in you and we will be happy to talk to you about your interests and will forward you a full color expedition brochure or e-mail you info back.
Hope to see you on the river.
Sincerely,

Kelly and Kevin Knight. Owner / Operators.
Guides
As safety, and your enjoyment of the guided raft or canoe expedition, is our priority we ensure this trust to you through continuing training and ensuring our guides have current and top notch training and experience in their field.
As follows is a list of current training and experience held by our staff;
Advanced wilderness first aid.
Swift water rescue technician.
Trip leader license through BC provincial government.
NCLS lifeguard training.
Search and Rescue (SAR) training and current member.
Extensive experience in the areas of trips and multiple years of expedition guiding experience.
This is wilderness:
Situated in northeastern BC, where the boreal plains and plateaus meet the mountains, lies the 4.4 million-hectare Muskwa - Kechika area. This is one of the last true wilderness regions south of North America's 60th parallel.
Few places in the world can match the significance of the Muskwa - Kechika (pronounced musk-quah-ke-chee-kah). With its' raw untouched beauty, thriving natural eco-system and abundant wildlife, the Muskwa - Kechika has national, international and world importance.
Through a local and provincial planning process in Fort Nelson and Fort St. John, the Muskwa - Kechika area was deemed unique and special. A management plan was set in place to balance resource management with conservation, making it an excellent example of how interests that were once in competition have found a way to co-exist on the land. An advisory board was appointed to advise government on management of the area and that a special trust fund be created to support special projects and planning initiation within the Muskwa - Kechika.
Environmental values:
The Muskwa - Kechika is one of the most exceptional wilderness areas in North America. It features mature and old growth forests, spectacular geological formations: lakes, rivers and streams, waterfalls and hot springs, sub alpine areas and major wetlands. It is home to a huge variety of wilderness and wildlife. Much of the environmant is ecologically sensitive and some of the wildlife is treatened or endangered.
The area supports the only plain bison population in the province and also includes 3500 grizzly and black bear, as well as coyotes, wolves, wolverines and cougars. Squirrel, mink, weasel, martin, lynx and beaver are numerous. Upland game birds include the sharp-tailed, ruffled and blue grouse and several species of ptarmigan.
The extensive wetland areas provide habitat for the Canada and snow goose, trumpeter swan and a variety of ducks including mallards, blue wing teals and buffleheads. Many predator species are abundant including the gyrfalcon, bald eagle, boreal owl and broad wing hawk.
History:
The remoteness has restricted development of natural resources just as it has preserved the wilderness. The Muskwa - Kechika has tremendous cultural and heritage importance. Traditionally and for hundreds of years, the land has been used by first nations for hunting, gathering and fishing. There are a number of archaeological sites in the region. It features a historic fur trading route with trapper cabin sites, the remains of a Hudson's Bay trading post, a historic commercial fishing site, an abandoned native village, pack trails and old wagon trails enhance the richness and uniqueness of this area. By taking into account the universal significance of this region that few get to see, we can be proud of the role we are playing in preserving wilderness and increasing protected areas such as the Muskwa - Kechika in Northern British Columbia, Canada.
---
Address:
Box 37, Smithers, BC,
Canada, V0J 2N0
Phone Numbers:
250 877 2144 (For more info)

For Reservations:
Call Toll Free:877 909 RAFT (7238)
Professional guides & outfitters offering guided river rafting trips and inflatable canoe expeditions in the BC Rockies, Northern British Columbia and the Northwest Territories, Canada.
© 2007 Main Current Expeditions, British Columbia, Canada